#ATATalk - Episode 3
10th April 2021 | 6:00 pm - 7:00 pm (IST) | Online
About the Session:
Topic: Automation : Embrace it, don't be scared
Description: The talk is must for someone in the Testing space and struggling in their current career. The talk will help folks on understanding:
– How can they use their existing skills even with in their automation projects
– How can they learn automation just enough that they can also contribute.
You will also get a chance to interact with Ajay live in this wonderful #ATATalk initiative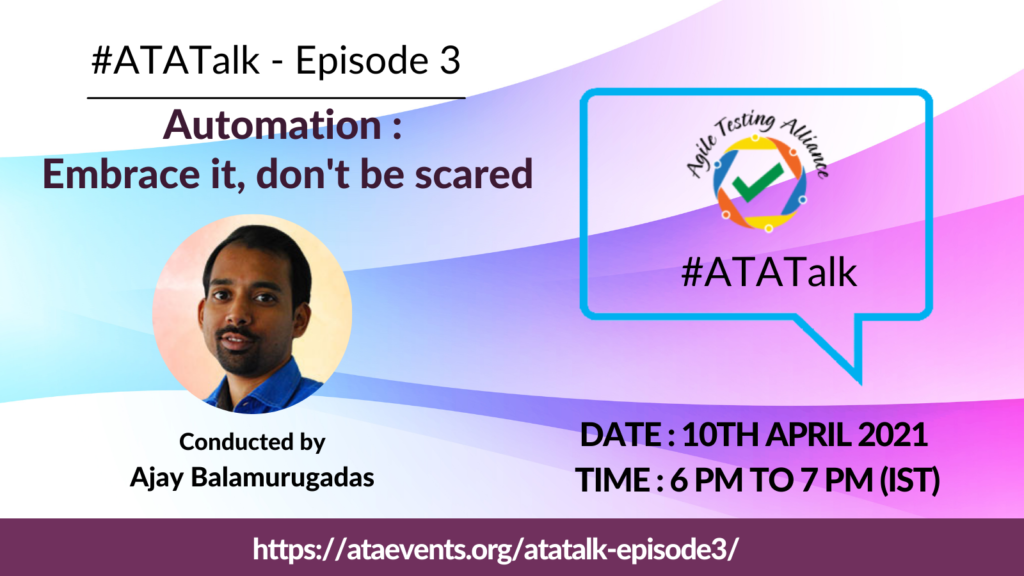 Fees: This is a Free Session as a part of Community Learning Program
Date : 10th April 2021
Timing : 6:00 pm – 7:00 pm (IST)
#ATATALK is a new community initiative of ATA
ATA has held many conferences and meetups in the past years. In 2020, we managed to hold 2 virtual conferences and 6 virtual meetups. This year we started off with a virtual SeleniumSummit21 . While we are still grappling with Covid situation and physical events are yet to kick off. We thought about having a 45 minute to 60 minute live learning / interactive capsules. Thus allowing us to break the monotonous regime and quickly get in new learning bytes. Enabling us to connect with each other and with the budding/established speakers. #ATATALK is to fulfill this need. The idea around #ATATALK is to give all budding speakers a chance to share their ideas and knowledge with the community.
#ATATALK is thus all about discussing fresh ideas, innovative thoughts, solving problems, treading on unchartered waters or learning something which is important in todays scenario and in the process creating a larger community of thought leadership.
Everybody is welcome to attend #ATATALK and also be a speaker at #ATATALK
Registration is mandatory.